HOLEDECK®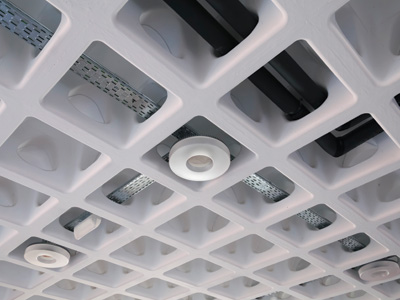 "HOLEDECK is a simple and elegant way of creating coffer slabs, with holes in the webs. It overcomes one of the main obstacles to the use of coffer slabs, which is that all services usually have to run below the slab rather than in it. It appears to be particularly suitable for light weight long-span floors or where architects and engineers are interested in making better use of the thermal mass of a concrete coffer slab. The jury felt that some of the best innovations come from simple ideas and HOLEDECK could re-energize this form of construction."
– David Scott, CTBUH Technical Awards Jury Chair / Director, Engineering Excellence Group, Laing O'Rourke
The spatial efficiency of floor decking systems has a dramatic effect on how tall buildings are planned, designed, and constructed. Due to the market demand of column-free spaces, most notably in offices, hospitals, schools, and public buildings, the horizontal flooring systems of many high-rise buildings require a substantial amount of resources in order to achieve larger spans. HOLEDECK is a system of voided concrete slabs that can be pierced through their thickness by electrical and plumbing systems, drastically reducing the vertical space needed to house these components. This technology has a multitude of implications for sustainability, especially when it is implemented on the scale of a tall building. By reducing the necessary height of each floor, fewer materials are required to achieve the same floor area as in a typical high-rise building.
The strength of this system lies in its simplicity. The waffle pattern creates voids that can accommodate a customizable grid of building services. To facilitate the vertical transition of these networks, certain polypropylene molds can be used in the fabrication process to create voids above certain cells.
Due to the way that HOLEDECK slabs are designed, the system eliminates the concrete mass that is not working to support shear, thus reducing the overall weight of the structure without compromising its ability to achieve long spans. This results in a reduction of the built volume and concrete consumption, and thus minimizes the carbon footprint of a building project.
Project Team
Holedeck Design and Development: Sustainable Building S.L.
Structural Load Tests: SCI S.A.
Acoustic Tests: DB BÁSICO