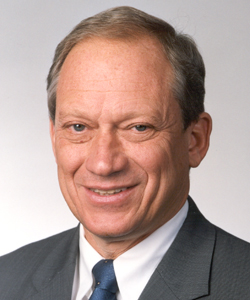 Nicholas E. Billotti
Chairman
Turner International LLC
"Always one to provide clever, cost-effective solutions for the best way to building a project, Billotti has invariably served to bridge the gap between design engineers and the construction team. His years in the industry have allowed him to help so many people, all of whom were fortunate to have benefitted from his experience, encouragement, and expertise."
– Dennis Poon, CTBUH Trustee, Thornton Tomasetti
Nicholas (Nick) E. Billotti is Chairman of Turner International LLC, the overseas division of Turner Construction Company. In this role, Mr. Billotti provides astute strategic direction for the international business unit, which includes focused regional operations in Europe, India, Latin America, the Middle East, and Southeast Asia.
A key to his great success is his adeptness at fostering productive and strategic relationships with local partners in regions around the world. From the world's tallest building to a sophisticated biotech manufacturing facility in Costa Rica, Turner's quality signature is found in projects everywhere.
Mr. Billotti joined Turner as a scheduling coordinator in 1977, and progressed through a series of global assignments and responsibilities before being named President of Turner International in 1996. Over four decades, Nick has employed an extraordinary level of professionalism that underscores his sincere commitment to the industry. Through this commitment, Mr. Billotti has helped the industry grow into what it is today.