July 22, 2015
CHICAGO – This week the Council on Tall Buildings and Urban Habitat (CTBUH) released the names of the Urban Habitat Award winner and finalists, the next in a series of announcements for the CTBUH Awards. The 2015 winner of the CTBUH Urban Habitat Award is the PARKROYAL on Pickering in Singapore, remarkable for its extensive greenery throughout, and its porous, pedestrian-oriented integration with the ground plane.
Acknowledging that the impact of a tall building is far wider than just the building itself, the Council launched the Urban Habitat Award in 2014, as part of the overall CTBUH Awards program, to recognize tall buildings' improvements to the urban realm as a whole. This year's Urban Habitat winners and finalists were chosen for their exemplary designs that are intelligently influenced by both their environmental and cultural context, and which add to the social sustainability of both their immediate and wider settings.
The jury also recognized the following projects as finalists for their notable contributions to their urban environments:
The winners and finalists will be celebrated at the CTBUH 14th Annual Awards Symposium, to take place at the Illinois Institute of Technology, Chicago, on November 12, 2015. The Symposium itself will feature an exciting series of presentations from the owners and architects of each building. Winners and finalists will also be featured in the annual CTBUH Best Tall Buildings Book, published in conjunction with Images Publishing and distributed internationally each year.
Project Information
Winner: PARKROYAL on Pickering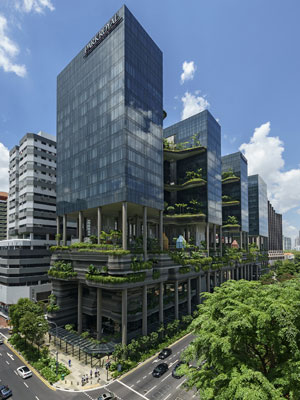 PARKROYAL on Pickering is located in the midst of Singapore's high-density city center, and achieves its "hotel-in-a-garden" concept through extensive amounts of landscaping carefully integrated into the building's design. The project incorporates extensive greenery and landscaping throughout.
A contoured podium responds to the street scale, drawing inspiration from terraced landscapes, such as rice paddies. These contours create dramatic outdoor plazas and gardens, which flow seamlessly into the interiors. The building appears to hover above the ground, resting on a series of columns that resemble the trunks of trees. This structural solution opens up the footprint underneath the building, making way for an expansive vegetated buffer between the street and a covered walkway that encircles the perimeter. This "urban verandah" establishes a cool, protected thoroughfare along the entirety of the block.
Multiple, extensive sky gardens are inserted along the façade, bringing lush greenery directly to the guestrooms and public areas. There are 15,000 square meters of plantings, water features, waterfalls, terraces and green walls in the many sky gardens. In terms of scale, the landscaping amounts to 215 percent of the site area, showing that, even as our cities become taller and denser, we do not have to lose our green spaces. See the building profile on The Skyscraper Center.
"PARKROYAL demonstrates  that public space can occur in a skillful way across multiple levels. The degree to which the building was covered in spectacular greenery was noteworthy. This was not a case of token greenery, but instead a full expression of gardens in the sky."
– James Parakh, O.A.A, City Planning Department, Toronto, Canada
Finalists