November 4, 2016
CHICAGO – The Council on Tall Buildings and Urban Habitat (CTBUH) Awards Jury has named Shanghai Tower, Shanghai, China the "Best Tall Building Worldwide" at the 15th Annual CTBUH Awards Ceremony and Dinner, celebrated November 3 at the Illinois Institute of Technology, Chicago.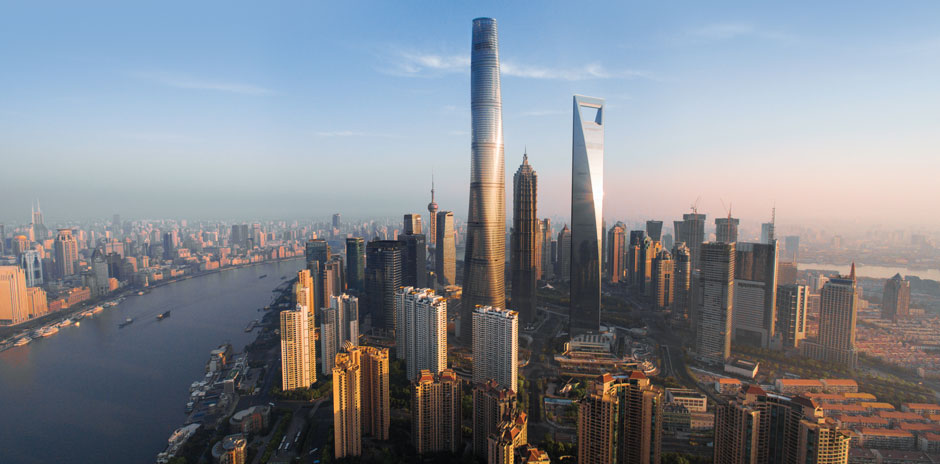 Shanghai Tower was chosen from among four regional Best Tall Building winners, including Shanghai Tower, Best Tall Building Asia & Australasia; VIA 57 West, Best Tall Building Americas; The White Walls, Best Tall Building Europe; and The Cube, Best Tall Building Middle East & Africa. The final decision was the climax of a year-long selection process that saw 132 entries from 27 countries around the globe.
The winning project impressed the Jury for a variety of reasons; as the tallest building in China, Shanghai Tower has quickly reached iconic status by rooting an innovative design scheme in traditional Shanghainese architectural traditions. Building off the concept of shikumen, a vernacular housing style that blends indoor and outdoor space, Shanghai Tower incorporates stunning multi-story atria between the tower's pioneering double-skin façade. The twisting profile of the development works in conjunction with its innovative exterior to provide a sustainably minded design, leading to a 24 percent reduction in wind loading. Sustainable and people-oriented, Shanghai Tower represents the pinnacle of progressive skyscraper design.
Jury member Antony Wood, Executive Director, CTBUH, cited its unique double-skin façade and innovative atria as decisive factors in their decision: "Shanghai Tower shows the greatest commitment to communal space in a tall building since Commerzbank Tower completed in 1997. It contains the world's first truly 'inhabitable' double-skin façade on a skyscraper, which is not only remarkable for its intended greenery, but its incorporation into the tower's overall ventilation strategy. The sacrifice of valuable floor area to realize this social amenity proves that the aspirations for Shanghai Tower went far beyond mere commercial gain."
Jianping Gu, General Manager, Shanghai Tower Construction & Development, accepted the prestigious award along with colleagues from his company and the project architect, Gensler. Mr. Gu expressed that he was honored to receive the award and stressed that the success of the tower was only possible through the collaboration of countless stakeholders who relentlessly pursued a high standard of completion for the tower.
Senior representatives of the four Regional Winners presented their projects earlier in the day at the Awards Symposium, and the winner was selected by the Awards Jury immediately thereafter, which was announced during the Dinner and Ceremony following the Symposium. Along with the Jury's selection, the audience had a chance to weigh in on their pick for Best Tall Building selecting VIA 57 West, New York City, USA.
Several additional awards and honors were bestowed during the Ceremony. Ellen Lou, Director of Urban Design and Planning, Skidmore, Owings & Merrill (SOM) accepted the 2016 Urban Habitat Award on behalf of Wuhan Tiandi Site A, which was honored for its exemplary master plan that incorporates intimate low-rise commercial gathering spaces in a high-rise setting. The 10 Year Award – accepted by Louis Nowikas, Vice President, Hearst Corporation – was bestowed upon Hearst Tower, New York, for its leading influence on environmental and heritage strategies in New York and around the world. Meanwhile, TAIPEI 101 received the Performance Award for its commitment to continuous top-line energy upgrades, and the Innovation Award went to the Pin-Fuse Seismic System – designed by SOM – for its advancements in structural stability and resilience for tall buildings in seismic regions.
Along with the above awards, Ron Klemencic, Chairman & CEO, Magnusson Klemencic Associates, received the Fazlur R. Khan Lifetime Achievement Medal, and Dr. Cheong Koon Hean, CEO, Housing and Development Board of Singapore, was awarded the Lynn S. Beedle Lifetime Achievement Award. Finally, CTBUH Fellowships were bestowed upon Israel David, David Engineers; Mark Sarkisian, SOM; and Cathy Yang, Shanghai Tower Construction & Development.
The CTBUH Awards are an independent review of new projects, judged by a prestigious panel of experts. The Awards aspire to provide a more comprehensive and sophisticated view of these important structures, while advocating for improvements in every aspect of performance, including those that have the greatest positive effect on the people who use these buildings and the cities they inhabit.
The full list of 2016 CTBUH Awards Winners and Finalists can be found here.
Photo Gallery